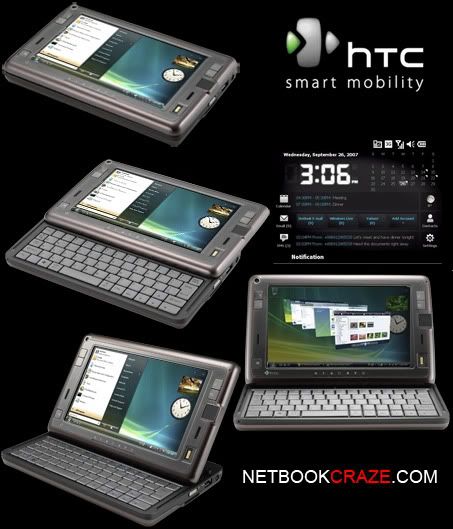 Overview:
Experience a new era in mobile computing with the HTC Shift. Powerful enough to run Windows Vista® Business, the HTC Shift has the optimal blend of portability and functionality, giving you uncompromised performance while on the move.
HTC Shift features SnapVUE™, an always-on mode that provides you instant access to critical information -- including e-mail previews, local weather, calendar, and SMS -- even if the device is not switched on. Push e-mail gives you instant alerts whenever you have new Outlook® e-mails. Through Wi-Fi or 3.5G high-speed connectivity, you enjoy the ultimate productivity and highest fidelity Internet experience around.
HTC Shift also features a 7-inch touch sensitive screen that slides out and tilts to a comfortable angle. It has a full QWERTY keyboard for convenient messaging and text input. A built-in fingerprint sensor is provided for increased security.
Highlights
Always-on access to critical information with HTC SnapVUE™
Receive instant e-mails with Microsoft® Direct Push technology up to 2 days on battery standby
Powerful enough to give you the full Windows Vista® experience
Revolutionary small form factor gives you portability without compromising mobility
Adjustable 7-inch touch screen
Mouse buttons and microPad
Worldwide UMTS with HSDPA
Bluetooth® 2.0 and Wi-Fi®
USB 2.0 connectivity
Fingerprint sensor
Overview:
Processor and Chipset
Intel® Processor A110, 800 MHz
Operating System
Windows Vista® Business
Memory
RAM: 1GB DDR2 microDIMM RAM for Vista + 64 MB for SnapVUE™
ROM: 128 MB for SnapVUE™
Hard Disk
1.8-inch 40 GB or 60 GB hard disk (manufacturer's option)
Dimensions
207 mm (L) X 129 mm (W) X 25 mm (T)
Weight
800g with battery
Display
7-inch, 800 X 480 TFT-LCD display with adjustable screen angle and touch-sensitive screen
Network
HSDPA/UMTS: Tri-band 850, 1900, 2100 MHz
HSDPA: Up to 3.6Mbps for download and 384kbps for upload UMTS: Up to 384kbps for download
and upload
GSM/GPRS/EDGE: Quad-band 850, 900, 1800, 1900 MHz (The device will operate on frequencies available from the cellular network)
Keyboard
Slide-out QWERTY keyboard
Mouse Control
Left/right mouse buttons and microPad
Wireless Connections
Bluetooth® 2.0 Wi-Fi®. IEEE 802.11 b/g
I/O Ports
1 USB 2.0, VGA out, and 3.5mm stereo audio out with microphone
Card Slots
1.8/3V USIM/SIM card slot
SDIO slot with hotswap functionality
Security
Fingerprint sensor
Web Camera
Color CMOS VGA camera for videoconferencing
Audio
Built-in microphone and dual speakers
Battery
2700 mAh rechargeable Lithium-ion polymer battery
Vista® operating time: Up to 2 hours
SnapVUE™ standby time (push e-mail enabled): Up to 53 hours
SnapVUE™ standby time (push e-mail disabled): Up to 10 days
AC Adapter
Voltage range/frequency: 90 ~ 265V AC, 47/63Hz
DC output: 12Vdc, 3A max.
-- STRALLENT.COM